While turmeric has long been used in medicine, new research reveals that it may also benefit dental health, including gum health.
However, you may be aware of the yellow pigments in turmeric, and you might be asking yourself: Will turmeric stain your teeth?
In this article, we will go over the pros and cons of using turmeric for your oral health care, including:
The benefits of turmeric for your oral health
Does turmeric stain your teeth?
Can you whiten your teeth with turmeric?
Continue reading to find out how to incorporate turmeric into your oral health routine while avoiding turmeric stains on your teeth.
Why does turmeric stain your teeth?
This spice's powerful yellow pigments may stain your teeth the same color over time. In reality, turmeric has the potential to stain anything it comes into contact with, so be cautious when using it.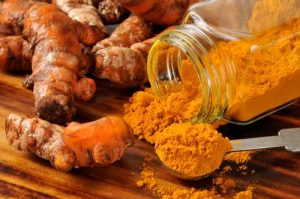 However, when searching for answers to why turmeric stains your teeth, there's some more to consider:
It's not the color of drinks/food that stain teeth, but the acidity that opens the pores in the tooth enamel which allows staining. Strong enamel does not stain!

Dr. Ellie Phillips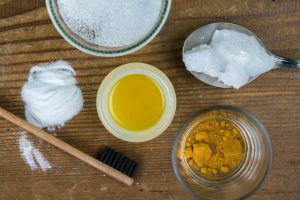 In other words:
If you consume a lot of acidic foods and drinks, it will weaken your tooth enamel and allow turmeric to stain your teeth yellow. The issue, according to Dr. Ellie Phillips, isn't the turmeric, but rather the condition of your tooth enamel.
Oral health benefits of consuming turmeric
While turmeric will stain your teeth if not used correctly, it also provides several health advantages.
Preventing plaque: When taken in combination with correct brushing and flossing practices, turmeric has the ability to help with tooth plaque.
Anti-inflammatory effects: Research on the benefits of turmeric on gingivitis sufferers have shown it to be effective in lowering inflammation.
Curcumin, found in turmeric, was shown to be effective in preventing gingivitis, or gum disease, according to 2012 research. When used appropriately, it removes plaque and germs and decreases inflammation just as effectively as a standard mouthwash.
Can turmeric help whiten teeth?
According to the ADA, there is currently no scientific evidence that turmeric may help whiten your teeth. However, there are some who claim turmeric is effective for teeth whitening.
Watch this video to see what YouTuber Lauren thinks about using turmeric.
She says that turmeric gave her good results with her teeth whitening. However, she does strongly advise brushing your teeth with regular toothpaste afterward to avoid the turmeric staining your teeth.
How can you consume turmeric without staining your teeth?
Turmeric is not the root cause of teeth staining; it's the acids in the food you consume that weaken the tooth enamel. To avoid staining from turmeric, avoid consuming acidic foods and beverages as much as possible.
If the tooth enamel is in healthy condition, it will have a sleek and smooth structure. However, consuming acid-containing foods damages the enamel and causes pores to open. As a result, foods with powerful color pigments like turmeric discolor the teeth.
Therefore, keeping your tooth enamel in excellent condition is the best way to fight turmeric tooth stains. Rinse your mouth immediately after consuming turmeric and brush your teeth thoroughly.
Conclusion
Some studies have shown that turmeric offers oral health benefits, such as plaque and gingivitis prevention.
But, according to the ADA, there is no scientific evidence that turmeric can help with teeth whitening. Additionally, if your enamel is weak and you don't brush or floss regularly, turmeric can easily stain your teeth.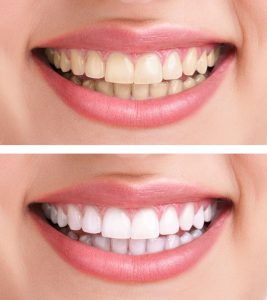 FAQ
Does turmeric stain your teeth yellow?
Turmeric leaves a yellow-orange tint on everything. However, there is no or little chance of turmeric causing permanent stains if you brush your teeth properly after consuming it.
Will drinking turmeric stain my teeth?
Yes, it does stain. Because turmeric causes a yellow-orange tinge in your mouth, make sure to water floss and brush properly after consuming it to avoid permanent stains on your teeth.
Does turmeric stain crowns?
There have been many individuals claiming that turmeric stains their crowns. Because turmeric gives your mouth a yellow-orange tint, be sure to water floss and brush properly afterward.
Sign up to receive the latest news and offers from Dentaly.org