The Goby Toothbrush is a stylish and sleek electric brush that has simple features and a moderate price. It comes in three stylish color ranges and has a single button that turns it off and on.
It has two modes — standard and sensitive, which are also operated by the power button.
Read our review to find out of this is the best electric toothbrush for you, or if you should consider other options.
In this article, we'll go over:
How the Goby works
Goby purchasing options
Goby Toothbrush alternatives
We hope this helps you choose the best electric toothbrush for your needs.
What's the Goby Toothbrush?
The Goby is an ADA Accepted electric toothbrush that has an oscillating round brush head, most similar to the Oral-B model. The creators of the Goby wanted a straightforward electric toothbrush.
They had a vision for a brush that appealed to minimalist, no-frills tastes, but that still provided that extra cleaning oompf that electric toothbrushes have been shown to have over manual toothbrushes.
It has soft bristles and comes in three different color ranges:
Monochrome: Black or white
Metallic: Moonstone or white moonstone
Classic: Midnight blue, Goby blue, or tangerine
Goby Toothbrush features
Here are the main features of the Goby Toothbrush:
Polished bristles: The Goby bristles are polished to ensure smooth ends that won't damage gums
Simple interface: With a single button you switch the toothbrush on and off and switch from standard to sensitive mode
Head replacement alert: The power button lights up around every 3 months when it's time to replace the head
Comfortable: The handle is soft, with a smooth and hygienic surface
Easy to clean: The charging dock collects toothpaste residue in its easy-to-clean, removable tray
USB charging: The battery lasts for 2 weeks on average with twice-a-day use
As you can see, it's a toothbrush designed to be straightforward and easy to use, with a moderate battery life and easy operative features.
Goby Toothbrush price
When you purchase a Goby toothbrush you can choose between a one-time purchase or a subscription with brush head refills. You'll save a bit of money if you choose the subscription option, and even a bit more if you choose the subscription option bundled with toothpaste.
The kits (what Goby calls their toothbrush and charger sets) have a different price depending on the color range you choose — the Goby Toothbrush monochrome series, classic series, or metallic series — and whether you get a bundle, a prescription, or a one-time purchase.
Monochrome kit
Metallic kit
Classic kit
Goby Toothbrush reviews
In the following video review, you can see Sarah compare Goby with Quip and Brüush — all three popular options on the market today. Of the three, she prefers Brüush; Quip comes in second, and Goby third. Find out what her criteria were for rating them as such:
"Unfortunately when I recieved Goby I was not impressed with the overall experience. Dont get me wrong, I'm sure the brush is doing a great job a cleaning my teeth and I still use it every day." ★★★☆☆

Nir
"Love my Goby. Battery lasts about 2 weeks. Leaves teeth feeling really clean. Purchased one for my husband and for my son. Customer service great – when I forgot to include a promotion code on one of my orders, they retroactively applied it, which was the right thing to do based on my multiple orders!" ★★★★★

RL
"I once tried an electric toothbrush of a different brand and had to send it back because it was much too powerful for me. Goby's power is just right, doing the job well without being jarring." ★★★★☆

Hannah
Goby alternatives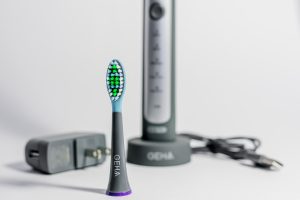 Have a look at our top picks when it comes to alternatives for the Goby:
Snow: Snow is most famous for its whitening kit, but they also make an LED whitening toothbrush. Its main features are sonic vibrations, 4 cleaning modes, and an LED light that supplements whitening and kills bacteria. Read more or get it now.
cariPRO: The cariPRO is another sonic toothbrush. It's more affordable than Snow and features a pressure sensor and 5 cleaning modes. Read more or get it now.
Nest: The Nest is a self-dispensing toothbrush, meaning it gives you the perfect amount of toothpaste on the bristles every time. It can also be purchased with a UV sterilizer that kills bacteria and viruses. Get it now and save 30% on your order with code DENTALY30.
Conclusion
The Goby is a mid-range brush, ranging from $55 to $95, depending on the color range you choose, and whether you go with a subscription or a one-time purchase.
This brush has a round, oscillating head, and a simple design with one button to control the power and mode settings. There isn't really anything that sets this brush apart from other mid-range electric brushes, but it's always good to have choices.
If you want an electric toothbrush without much fuss and some pretty cool colors, then the Goby may just be a good option for you.
FAQs
Is the Goby Toothbrush good?
The Goby Toothbrush should brush your teeth just fine, but it will do so without any frills. It seems to be a pretty basic mid-range electric toothbrush, although the metallic colors are cool.
What does the Goby Toothbrush cost?
The Goby Toothbrush costs from $55 to $95. It depends on the color you choose and whether you want a subscription with refill heads and toothpaste, or a one-time purchase.
Is the Goby Toothbrush sonic?
The Goby is not a sonic toothbrush. Instead, it has a round, oscillating head, much like Oral-B. These toothbrushes use rotating motions to clean teeth of plaque and debris.
Sign up to receive the latest news and offers from Dentaly.org