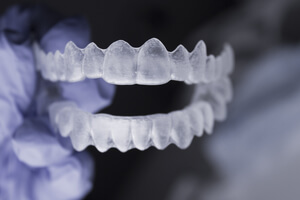 The teenage years are the best time to correct misaligned teeth since your bones are still growing. But many teenagers dread the idea of having to go to school with "metal mouth" braces. Fortunately, Invisalign Teen offers a much less noticeable way for children and teens to straighten their teeth.
In this article, we'll explain how invisible braces work and the specific features of Invisalign Teen which make this system ideal for teenagers. You can also find out about the cost of these braces in the US, plus other factors to consider.
Why get braces as a teenager?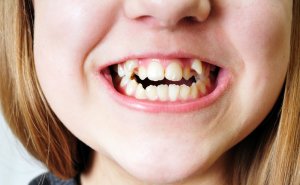 Although it's never too late to get orthodontic treatment for teeth straightening, the ideal time to begin is between the ages of 12 and 13. At this point, you should have most – or all – of your adult teeth, but your jaw bone and facial structure are still developing. It's easier to adjust the position of the tooth roots at this stage than if you wait until adulthood.
Even so, there is still a fair chance that your teeth will move out of alignment again if you don't wear a retainer after orthodontic treatment. Your dentist will advise you on how this is likely to work for you. You may have to wear a retainer every night or every other night for as long as you want your teeth to remain straight.
The benefits of getting your teeth straightened are numerous. They include:
Greater confidence in your smile
Improved facial aesthetics
Less chance of damage to prominent or misaligned teeth
A better bite for chewing and eating
Easier oral hygiene
The last point is important to note, since straightening your teeth as a teen can give you a better chance of maintaining good oral hygiene throughout the rest of your life. If your teeth are misaligned it's harder to clean them. This means more plaque will build up, leading to tooth decay. As the years go on, you're more likely to need fillings, crowns, and even extractions.
So, you can view teeth straightening now as an investment in your child's future oral health.
How do Invisalign Teen braces work?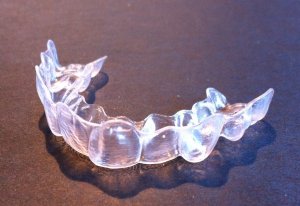 The Invisalign Teen system works in the same way as Invisalign Full, but with some added features designed to help teenage patients.
Clear aligners are custom-made according to a personalized treatment plan. Patients receive one for the upper jaw and one for the lower. They fit snugly over the teeth and apply pressure in certain places to move the teeth into better alignment.
Dentists provide a new set of aligners to use every two weeks. Provided your teeth respond to the treatment as planned, you only need to visit for a checkup every 6-10 weeks. Total treatment time will be around 12-18 months, depending on what needs to be done.
Aligner braces can be used to close gaps between teeth, straighten crooked teeth, and treat overbites and underbites.
If the patient has just a minor malocclusion, it may be possible to complete a shorter treatment course with Invisalign Express. If, however, the tooth misalignment is quite severe, Invisalign braces may not be able to treat the problem.
To find out if you or your teen can have invisible braces like Invisalign, take our fast and simple Smile Test. This free online tool will tell you whether clear braces are suitable for you or your teen, and it only takes two minutes to fill in your details.
If you find out you aren't a suitable candidate for Invisalign, keep reading to the end of this article where we have some information on alternatives to invisible aligner braces.
Benefits of invisible braces for teenagers
The following animation shows how the Invisalign system is different from traditional metal braces:
Perhaps the most obvious benefit of Invisalign Teen is the improved aesthetics compared to metal braces. Although not completely invisible, clear aligners are very hard to notice – especially from a distance.
Sadly, many children and adolescents experience teasing at school when they wear braces. The idea of straightening teeth in a less noticeable way, therefore, has obvious appeal for both children and their parents.
Teenagers who have a special event coming up – such as a graduation ceremony – will welcome the chance to be able to remove their braces for the photos. This can also be beneficial for contact-sport players who would otherwise worry about damaging their braces during the action.
Another advantage of using removable aligners is the freedom to eat anything you like. With fixed braces, there are restrictions on eating chewy, sticky, crunchy, and hard foods because of the damage they can cause to the braces. But with Invisalign Teen, all you need to do is pop the aligners out and eat as normal.
Wearers must remember to clean their teeth and aligners after eating, before putting them back in. And aligners need to be worn for 20-22 hours per day for treatment to be effective.
Special features
Many parents are naturally concerned that given the option to remove their braces, their child won't wear them as much as they should.
Invisalign Teen removable aligners come with the following features to make them ideal for younger patients:
Discreet color indicators show how long aligners are worn for

Blue wear indicators that fade over time (pictured). These are a guide for parents and dentists to check whether the aligners are being worn for the required 20-22 hours per day.

A special design to allow for new teeth which are still erupting.
Up to six free replacement aligners included over the course of treatment, in case any are lost or damaged.
These features should give parents some extra peace of mind about choosing this type of braces for their child.
How much does Invisalign Teen cost in the US?
Invisalign Teen costs around $3,000 – $6,500, depending on the complexity and length of treatment required.
However, all private dental treatment costs vary from one dentist to the next so you should shop around several clinics in your area to check prices. Most dental practices offer payment plans to help you spread the cost of treatment for your child.
Alternative braces for teenagers
American children (under age 21) who are covered by Medicaid and the Children's Health Insurance Program (CHIP) are entitled to medically-necessary orthodontic work, but eligibility criteria vary by state.
If you are paying privately for braces for your teen, metal braces and Invisalign Teen are typically the cheapest options. Patients usually have the option to personalize metal braces with different colored bands – if you can't hide them, why not show them off?
But if you're after something less obvious and have decided against Invisalign, here are some other options to consider:
Clear braces: These work in the same way as traditional braces but the brackets are made from a clear material which blends in with the teeth. This makes them far less obvious.
Ceramic braces: The brackets are either clear or tooth-colored to match the patient's natural tooth color. Sometimes the wire is tooth-colored as well.
Lingual braces: These 'hidden' braces are concealed on the inner surface of the teeth. They still use metal brackets and wire but are hard to notice.
You can read more about different types of braces for teens and adults here, but below is a summary of the cost and other things to consider when choosing between these options. These are prices for full mouth treatment (both the upper and lower jaw).
We also have a separate article on braces for kids – take a look if you have younger children who need orthodontic treatment. With so many options available, you should be able to find a solution that suits you. Our aim is to provide all the information you need to make that important decision.
Conclusion
If you or your teen want straighter teeth without it being obvious you're wearing braces, Invisalign Teen could be the best option. With these clear aligners, 'metal mouth' taunts won't be a worry. Plus, there's the added benefit of increased comfort and special features designed specially for teenagers.
Remember to take a free Smile Test to find out whether you can avoid metal braces but still get a smile that makes you feel more confident.